Hamburg, June 27th 1826 – November 19th 1889, Paris
French painter of German origins, Ferdinand Heilbuth is born in Hamburg where he learned theology to become a rabbi. He dropped it and began to travel with Charles Gleyre (1806-1874) to Düsseldorf, Rome and finally Paris where he decided to stay. During the 1870 war, he was a refugee in London.
Charles Gleyre, Swiss painter professor at the Paris Beaux-Arts School, opened his own studio where came some famous painters, like Claude Monet (1840-1923), Frederic Bazille (1841-1870), Alfred Sisley (1839-1899) and many others. Ferdinand Heilbuth has been coached by this master and in contact with his glorious disciples, including Auguste Renoir (1841-1919) and Mary Cassatt (1843-1926). He exhibits several times at the Royal Academy, the London Grosvenor gallery and the Boston Athénée. He lived in Roma from 1865 to 1875 where he observes the Vatican life and the Pope Court. This is the reason why he has been called the painter of the cardinals.
His painting topics were the middle and popular classes way of living and his talent shows through his vivid and delicate colors. Vincent Van-Gogh (1853-1890), in a letter to Anthon Van Rappard (1858-1892) dated November 1st 1880, expressed the admiration he had for this painter.
Starting in 1853, Ferdinand Heilbuth exhibited some portraits at the Salon de Paris and was awarded a Second Class medal. He got other ones in 1859 and 1861.
On April 30th 1865, the Ferdinand Heilbuth painting "L'absolution du péché véniel" (The venial sin absolution) is bought by the Princess Eugenie for 10000 F. In 1861, he is awarded the Knight grade medal of the "Légion d'Honneur" and was promoted Officer on July 13th 1881.
Passing by Ecouen, he was, most of the time, welcomed by his friend Luigi Chialiva (1841-1914).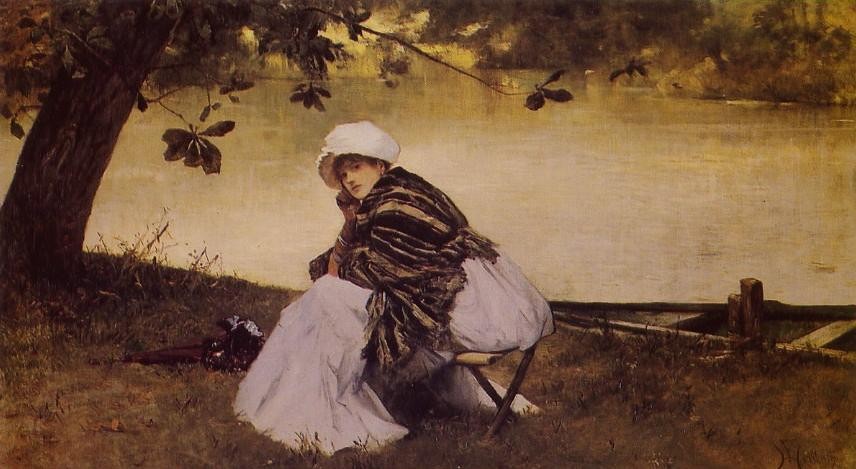 For further information, please read the book "L'Ecole d'Ecouen, une colonie de peintres au XIXe siècle" (bilingual French-English).